SANTÉ is located in The Historic Alphabet District @ 210 NW 17th Avenue, Portland, OR 97209
We work hard to earn our patients' trust. We don't take that lightly.
At SANTÉ Aesthetics & Wellness, we're redefining what it means to be healthy. Our patients want to live better, and, together, we'll support their wellness goals.
Metagenics builds evidence-based formulas and lets you see exactly what's inside. That's transparency you can trust.
Metagenics is a life sciences company and the premier manufacturer and distributor of science-based medical foods and nutraceuticals marketed to healthcare professionals. As a leader in the fields of nutrigenomics and functional medicine, healthcare practitioners around the world rely on Metagenics' products and services to help their patients achieve a lifetime of good health.
Today, health is defined as the absence of disease. We believe health is much more than that. It's what you're eating, how you're moving, and essentially how you're living.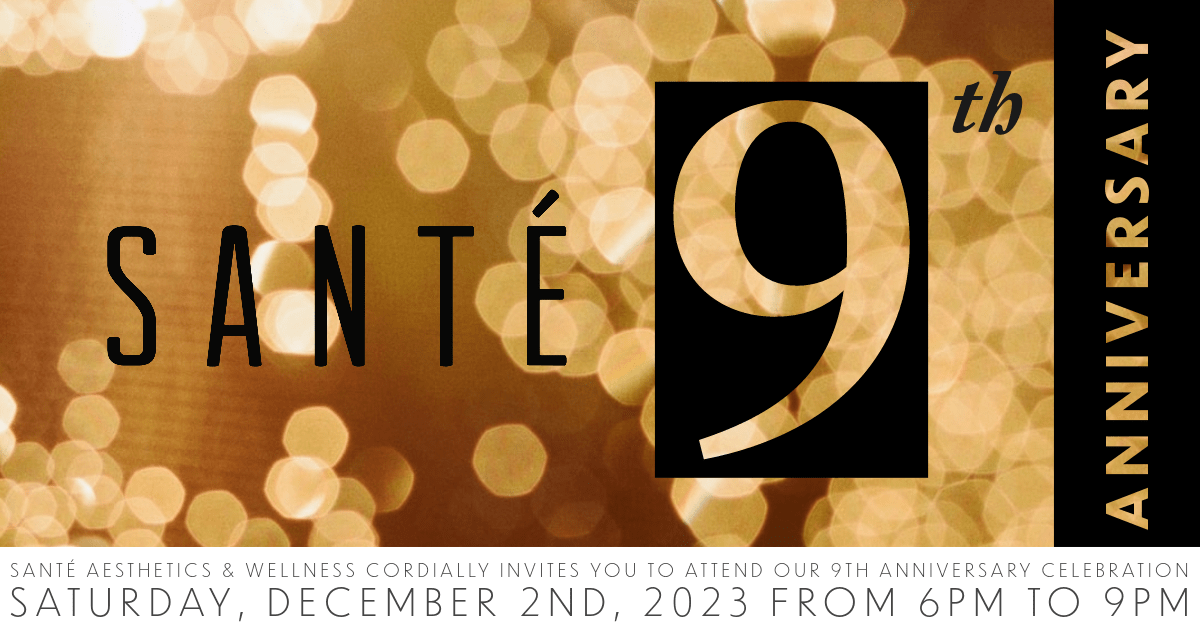 Welcome to our 9th Anniversary Celebration! At SANTÉ, we are thrilled to mark this milestone with an event filled with education and fun.
Join us on this joyous occasion as we continue to redefine beauty and wellness.
Our 9th anniversary event includes:
LIVE DEMOS: Witness the magic of our new services and injectable treatments that include:
AquafirmeXS Platform – Medical grade, plant-based exosome facial and hair restoration device
DE|RIVE Hair Restoration System
Cellinis Platelet-Rich Derma Filler Treatments
Wrinkle Reducers
GRAND RAFFLE: Attend to win an exclusive skincare basket, a full-face Dermafiller treatment, or a hair restoration treatment plus a hydrating syringe of Skinvive!
GOURMET CATERING: By local Portland favorite, Elephants Delicatessen.
LIVE MUSIC: Enjoy the enchanting melodies performed by the talented Mike Danner.
ANNIVERSARY OFFERS: Our once per year offers include:
AquafirmeXS treatments, DE|RIVE Hair Restoration treatments, and Cellinas DermaFiller for Face and Body enhancements!
Plus wrinkle reducers, massages, facials, laser and microneedling treatments and more. See details below!
Introducing AQUAFIRME XS
Medical Grade, Plant-Based Exosome Facials and Hair Restoration Platform.
Demonstration: We will be demonstrating these new services. Watch, learn, and feel free to ask questions of our providers.
Special Launch Offer

: Enjoy $100 off any AquafirmeXS facial treatment. Experience the future of medical grade skincare with this cutting-edge innovation.
DE|RIVE Hair Restoration: Amplify Your Confidence with Pain-free Hair Restoration
Special Launch Offer

: Buy 3, Get 4th Free: Purchase three DE|RIVE treatments and receive the fourth treatment plus a home hair serum on us.
Introducing Cellinis Platelet-Rich DermaFiller Treatments
Lasting Re-Volumization and Tissue Regeneration 
Demonstration: Watch our live demonstration and ask questions to our expert SANTÉ providers!
Special Launch Offers
Partial Face Treatment

: Purchase any partial face treatment and receive 10 units of wrinkle reducer free.

Full Face Offer

: Purchase any full face treatment and receive 20 units of wrinkle reducer free.

Additional Treatment Offer

: Purchase any DermaFiller treatment and receive the second top-off treatment free.

Body Enhancement Offer

: Celebrate your curves with $1,000 off a breast or booty enhancement treatment (Limited to the first 5 customers for each.)
And there's more! 9th anniversary offers for you
We want to thank you for being a part of our journey and for celebrating another year of enhancing beauty, wellness, and you!
Please accept our gratitude in the form of relaxation and rejuvenation. In addition to our new treatment offerings from AquafirmXS, DE|RIVE, and Cellinis, please enjoy:
Massage and Facial Offers
Buy One, Get One 50% Off

: Indulge in one of our massages or facials and receive a second at half price.

Buy Two, Get One Free

: Double up on relaxation with two massage or facial treatments and get the third on us.

Buy two chemical peels and get one free
Special Treatment Offers
Buy 3 IPL large areas for $999

Buy 5 get one free for any laser hair removal (*limited to one size)

Buy 2 Potenza RF Microneedling, get one 50% off
Wrinkle Reducers (NEUROMODULATORS)
Bank Your Bottle! $250 off a full bottle of premium Wrinkle reducer.
AWESOME PEOPLE
Patient & Client Feedback
Beautiful facility, knowledgeable and experienced staff. Highly recommend!

"This place has it all! Edwin is one of the best massage therapists out there." 12/2/2021

"I had a great time here and will definitely be returning. The vibes are so relaxing and everyone is really nice. My aesthetician for my facial, Amaliya, was so sweet and she has such soft hands! I enjoyed chatting with her during the session as well. My massage therapist was Edwin, and he was so much fun. He is very professional and did a wonderful job working through all the knots in my back. Also, he is very kind and I loved our conversation... it felt like I was hanging out with friends all day! Definitely recommend you check this place out."

"I've been getting laser hair removal done by Letha for a few years now. She is such a professional, is so knowledgeable, and does a fantastic job. I was unable to get touch-ups the past year due to COVID and recently went back. There was so little hair left to do that we did half the planned areas because it held up so well. I can't recommend this service enough. The only thing bad I have to say is I wish I did it sooner. Oh, and they have their own skincare line which is also great."

"I've been a patient of Dr. Wiggins for many years and now she's my go-to for Beauty. She's an artist and views your face as her canvas. She recommends just the right amount and just the right stuff. I can see where people would want more and where it could become addictive BUT the beauty is she keeps you in check and keeps it real… Treat yourself - YOU deserve it!"

"Edwin is truly incredible. He was by far the best massage therapist I have ever had and you can really tell he takes pride in his work. I have already noticed such a difference and cannot wait for my next appointment. Sante's front desk is also very warm and welcoming, I definitely will continue coming back here and recommend it to everyone! THANK YOU!"

"An absolutely stunning spa, it is always a joy to visit! The staff here is incredibly friendly and creates a welcoming warm environment."

"While some of Portland's spas go in for minimalism or new-age spiritualism, SANTÉ leans hard into its luxurious, Pompeii-before-the-volcano vibe."

I've been a patient of Dr. Wiggins for many years and now she's my go to for Beauty. She's an artist and views your face as her canvas. She recommends just the right amount and just the right stuff. I can see where people would want more and where it could become addictive BUT, the beauty is she keeps you in check and keeps it real…Treat yourself YOU deserve it!

The results from

Plexr

blow my mind! It radically smoothes out static lines like nothing else. To me,

Santé

is the only place to get it done because they always offer top-of-the-line products and services. The downtime does look a little scary, but it passes quickly, and then you get to see the clock roll back big time!

"I love this place. Very friendly and talented staff. It's a beautiful, relaxing facility. I would highly recommend!"

"This place is phenomenal and the staff are all top-notch. A1 service and facilities!!"

"I would highly recommend Janessa for massages. She is wonderful, a great listener, and is absolutely fantastic! On top of this, the facility is beautiful and the reception team was incredibly helpful"