SANTÉ is located in The Historic Alphabet District @ 210 NW 17th Avenue, Portland, OR 97209
SOAKING POOL, COOL DIP POOL, STEAM ROOM AND UV LIGHT ROOM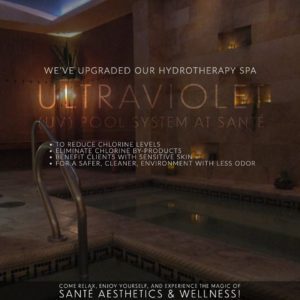 As a client or patient of Santé you can enjoy our gorgeous facility which includes a UV light sanitized hot soaking pool (103 F) and cool dip pool (room temperature), a steam room and a heated pebble beach UV light room, relaxation area, showers, and locker rooms – all of which can be used to provide a relaxing experience 1 hour prior to your scheduled service or appointment.
Our facility-use rates for use of the spa include the aforementioned amenities as well as one towel, robe, slippers, shower gel, shampoo, conditioner, and other basic toiletries. Use of spa facility after your service is not allowed, as therapeutically applied oils/creams can affect the delicate water chemistry or could negatively affect outcomes of the treatment received.
Spa Etiquette is required for our co-ed facility, including swimsuits and sandals, no cellphone use, no loud talking or disruptive laughter as other services are being delivered in rooms around the pools. We reserve the right to refuse service for any reason that does not adhere to our decorum. Any displays of intoxication or inappropriate sexual conduct will not be tolerated in the facility.
Facility usage fee is $65 for a stand-alone appointment or $50 if booked with another service.
Please arrive 15 minutes early to find adequate parking and fill out the necessary paperwork.
Consider the spa facility for your next event! Birthdays, wedding preparations/celebrations, networking events, wine tastings or even business retreats can be held with facility rental.
Please let us know if there is anything we can do to serve you better!
SANTÉ INSPIRE SPA MEMBERSHIP PACKAGES
Questions? - Get in touch