SANTÉ is located in The Historic Alphabet District @ 210 NW 17th Avenue, Portland, OR 97209
Discover the Benefits of Semaglutide for Medical Weight Loss
Semaglutide for medical weight loss and blood sugar control is now available at SANTE!
As a leading medical spa in Portland, Oregon, we are proud to introduce semaglutide as part of our comprehensive weight management program. Discover the benefits of semaglutide and how it can help you achieve your weight loss goals while improving your overall health.

Our medically supervised semaglutide metabolic support weight loss program includes:
A comprehensive medical intake and screening exam with our medical providers. Screening blood work required within 3 months of program initiation may be additional.
Monthly check-ins and access to our medical team for questions and to monitor your progress.
Your initial three months' supply of semaglutide.
Supplies and support needed for self injection in the comfort of your home, or the option for in-clinic weekly injections.
Access to full service medical spa services for non-surgical body augmentation, spot reduction and skin tightening.
Pricing
At Santé, we are passionate about supporting our patients with top quality medical care and creating a trusted and transparent relationship. There are never any hidden fees and we only source pure Semaglutide to provide to our patients.
Details of our semaglutide program are as follows:
Medical intake and provider oversight fee: $400
3mL (first 3 months') supply of Semaglutide with injection supplies: $1200
$1200 per 3ml vial with injection supplies, after reaching maintenance dose, includes monthly check in appointments
In office injection fee: $25
Blood work (if needed): $200+

What is Semaglutide?
Semaglutide is a glucagon-like peptide-1 (GLP-1) receptor agonist, primarily used to treat type 2 diabetes. It works by mimicking the action of GLP-1, a hormone that helps regulate blood sugar levels. In addition to its blood sugar-lowering properties, it has been found to promote weight loss by reducing appetite and slowing down gastric emptying. As a result, it has become an increasingly popular choice for medical weight loss programs.

Benefits of Semaglutide for Medical Weight Loss
Effective weight loss: Numerous studies have shown that semaglutide can help individuals lose a significant amount of weight, especially when combined with lifestyle changes such as diet and exercise.

Improved blood sugar control: For individuals with type 2 diabetes, semaglutide can help lower blood sugar levels, reducing the risk of diabetes-related complications.

Reduced appetite: Semaglutide can help curb hunger and promote feelings of fullness, making it easier to stick to a calorie-controlled diet.

Long-lasting effects: With once-weekly injections or daily oral tablets, semaglutide offers a convenient and long-lasting weight loss solution.


Personalized Semaglutide Treatment Plans
At SANTÉ Aesthetics & Wellness, our experienced medical professionals will work with you to develop a personalized treatment plan tailored to your unique needs and weight loss goals. We will closely monitor your progress and make adjustments as needed, ensuring optimal results and overall well-being.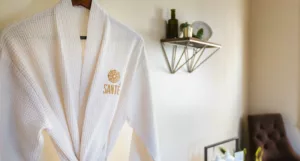 Contact Us Today to Learn More 
Are you ready to explore the benefits of semaglutide for medical weight loss? Contact SANTÉ Aesthetics & Wellness today at (971) 407-3066, email us at info@santepdx.com to schedule either 1) a consult to learn more about our comprehensive weight management program and other services or 2) the medical intake and screening to begin the program. Let us help you achieve the healthier, happier life you deserve. We are located in Portland's NW Alphabet District which provides easy access from Vancouver, Hillsboro, Gresham, Beaverton, & Tigard.
FAQ: Semaglutide - Medical Weight Loss